Happy New Year
Blog Happy new year to all members, I hope 2020 brings you everything you wish for. The year hasn't started great in terms of the unstable weather. Snow, rain and plus day temperatures isn't good for the golf course. I'm sure you have all seen pictures of course not so long from Asker that are snow free and even some open for play. As I'm writing this this we still have 5-10 cm of snow on the course, with most greens have a nice ice layer on them.
Though we are not going to open the course "off season" we do have the ambition to open early may with splendig quality like the last 2 seasons. It is of course fun to be able to play golf in january, but with the current shifts in weather forcasts we are quite happy to be able to sit back and let nature do its course under the snow, not having to worry about "isbrann" or "frystørke"
Luckily for us the greens are protected from the ice with plastic sheets and is the main reason we have decided to take this strategy to get through the winters with as little damage as possible. Low spots on greens are worse effected by ice and some areas being 5cm thick. I believe that this winter will give us a clearer understanding of how effective using plastic sheets on greens can be, but please remember that there is no guarantee and we are still learning the best way to use the sheets. The snow came earlier in 2019 than it did in 2018, so we have only blown in air under the sheets once. This is due to the snow/ice have become to heavy for the leave blowers to be effective and could possibly break the plastic sheets if we are too aggressive.
There may be a possibility to blow air under the sheets if the weather continues to be mild for the rest of January, but also it's possible that the whole course could end you looking like an ice skating rink. I definitely don't want this to happen but that's kind of out of my control.
Best regards James.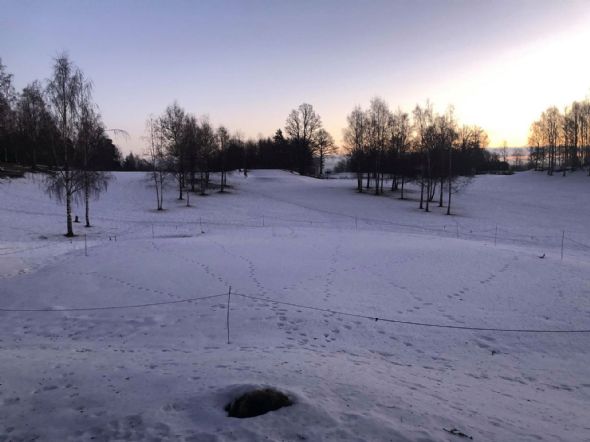 Typical winter in Asker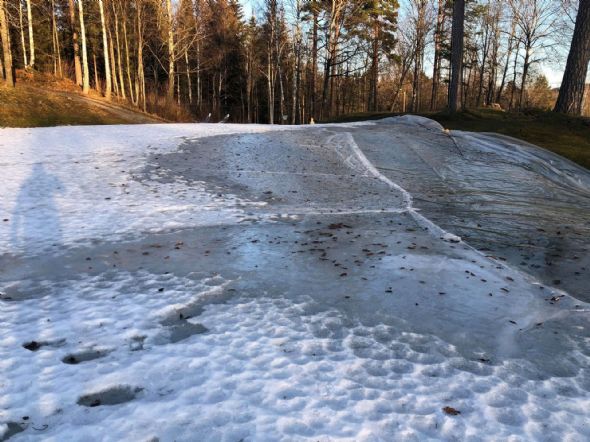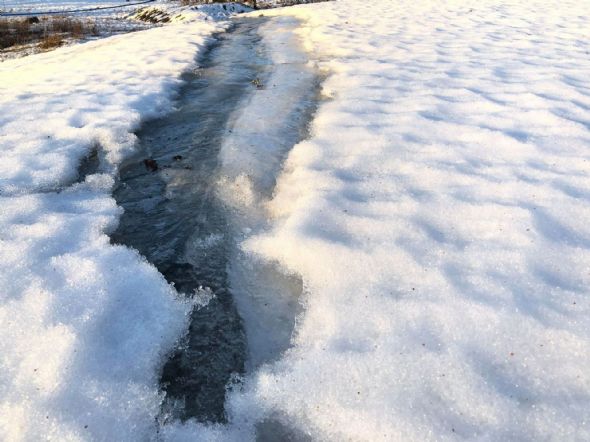 Here you can see the build up of ice that could have been detrimental to the green grass if not covered.